We are Jason and Christina Huitt, owners of South Mountain Construction, Inc from Lincolnton, NC. We are a family owned and operated business founded on the principles of strong leadership, ethical business practices, and uncompromising standards of safety and quality.
We specialize in the art of handcrafted homes. Whether it is a custom home, log, timber frame, or hybrid, we have built many mountain and lake designs from quiet retreats to elaborate family homes. We utilize combinations of brick, stone, shake, or timbers to blend into the natural landscape.
With the freedom to choose from our extensive selections of log, timbers, and custom crafted elements we strive to offer you brilliant custom designs and help guide you along the way from planning to turn key construction – from a dream to a dream home.
Sincerely,
Jason & Christina Huitt


South Mountain Log Home Wins High Honor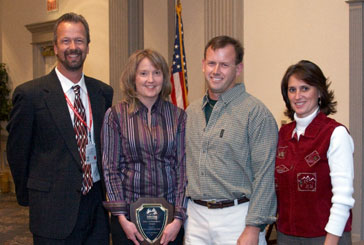 In recognition of outstanding log homes sales and services, Jason & Christina Huitt of South Mountain Log Homes, in Lincolnton, NC, recently were presented with the Kuhns Bros. Log Homes, Inc. "Sales Representative Achievement Award" for 2007. They were presented the award during the three-day Annual Sales Meeting in State College, PA. Nearly 200 sales representatives from across the country were in attendance. Seminars, guest speakers, and round-table discussions were part of the event.
Tom Kuhns, President of Kuhns Bros. says, "We are so pleased to have Jason & Christina as part of our sales team! Their hard work and dedication is outstanding and obviously has paid off."