No-Shop Package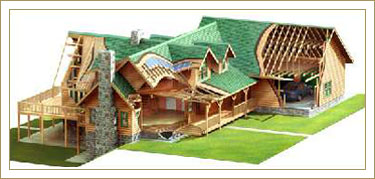 Timberhaven Log Homes offers homebuyers total package flexibility. Any standard or custom model is available in your choice of three package options - Log and Timber Package, Weather-Tight Package and Finish Materials Package. Combine all three and you're automatically assured of getting the most complete log home package available, the comprehensive NO-SHOP™ Package. We are also happy to provide Customized material packages to suit your individual requirements.
With some manufacturers, determining exactly what you're getting in your "complete" package can be next to impossible. Not so with Timberhaven Log Homes! We're the only company that backs up our promise in writing with our exclusive NO-SHOP™ Guarantee. In order to construct a finished turnkey home, only seven additional on-site components are required: electric, plumbing, heating, cabinets, masonry, floor coverings, and labor.
Take care when comparing…all log homes are not created equal. Avoid any unpleasant surprises. The time to know what's included in your log home package is when you buy, not on the job site. For added peace of mind, every Timberhaven home package is covered by our exclusive Lifetime Warranty.






No-Shop Package Guarantee / Materials Quality guarantee

No-Shop Package Guarantee: In the event the purchaser selects the No-Shop Package, as indicated on the purchaser's price quote, Timberhaven Log Homes, LLC guarantees that all the building materials needed to construct your home will be provided in your material package with the exception of 1) the electrical system, 2) the plumbing system, 3) the heating system, 4) cabinets/finished furnishings, 5) floor coverings, 6) masonry, and 7) gutters and downspouts. This guarantee applies to the materials necessary to construct a basic structure as per the price quote and construction drawings provided by Timberhaven Log Homes. This guarantee applies only to the NO-Shop Package. Any request for deletion of any materials normally supplied makes this guarantee null and void. Your price quote must show that this guarantee is included in your package.

Materials Quantity Guarantee: In the absence of selecting a "No-Shop" package, where the purchaser chooses specific components they want Timberhaven Log Homes to supply; Timberhaven Log Homes, LLC will extend a Materials Quantity Guarantee, assuring that sufficient quantities of materials are provided to construct the applicable areas of the building as per the price quote provided by Timberhaven Log Homes.

Under the No-Shop Guarantee and the Materials Quantity Guarantee , if you purchase a log home package and are short of materials, Timberhaven Log Homes will:

1) Review the price quote, the materials list, and your signed shipping list to verify if (a) it was missed during the materials take-off process, (b) insufficient quantities were calculated or shipped.

2) If it was missed or shipped in insufficient quantities, Timberhaven Log Homes will arrange for these materials to be shipped to the purchaser or authorize the purchaser to purchase these materials locally. Timberhaven Log Homes will reimburse the purchaser for these materials once Timberhaven Log Homes has received copies of the purchase receipts.

3) If it is determined from the shipping list that it was shipped in sufficient quantities, Timberhaven Log Homes, LLC may provide the materials ( if the purchaser desires) and invoice the purchaser for the additional materials and applicable shipping charges.

The purchaser must utilize all materials provided in accordance with industry standards and in conformity with the final construction blueprints. Use of materials for any other purpose other than shown specifically on the construction blueprints, or in a wasteful manner or not in accordance with industry standards invalidates these guarantees. These guarantees give the purchaser specific legal rights, and the purchaser may have other rights, which may vary from state to sate.