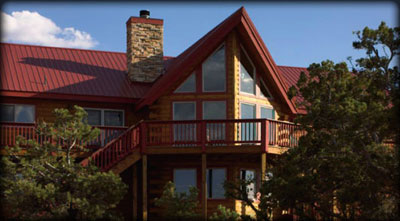 Building Your Dream HOME
Building a custom handcrafted home can be very overwhelming, especially a log home. This is why it is very important to work with a company that specializes in this type of construction. It is important to understand that most log home manufacturers do not build homes; however, they do assist with home design, provide a materials list, and deliver the log home package components to the building site. It is important to ensure that you have someone with the experience required to complete the home and who has experience in this type of construction. South Mountain Construction, Inc. can provide all the services required to complete your home and to ensure that it is built properly and in accordance with local building codes.

A Custom-Built Process
Log homes are the fastest growing segment of the custom home real estate market, appreciating and selling well. The principles of log home construction are the same as a conventional home, except for the log walls and log framing members. The plans are designed to defined/submitted building codes and wind/snow loads in the area, and the components are shipped to the building site where they are assembled on a conventional foundation.

Costs for a log home include, but are not limited to: log home materials (from the log home manufacturer), site work, foundation, heating and cooling, electrical and plumbing, cabinets and final finishes, and actual labor construction costs.

Log homeowners will pay the same or slightly more compared with a similarly constructed conventional house of the same design. South Mountain Construction, Inc. can help provide an estimate of the final cost in order to plan a budget, secure financing and decide how much of the final home will be owner finished.
What services do you offer?
This is important due to the fact that you may have to work with more than one person/company when building these types of homes. We offer everything from supplying the material, custom designs, shell erection, and turn key construction. We also help with financing as well. This simplifies the process as you only have to work with one person rather than several different contacts.
What types of warranties are offered?
This is important when building these types of homes. You need to determine what type of warranty is offered and who is it offered by. All the log and timber components we use are backed by a lifetime warranty offered by the log/timer manufacturer. You also need to ask if the log and timber components used are certified by a type of grading system. This is very important in determining if the actual component is suitable for structural areas within the home.
Can you show me 3-5 year old homes that you've worked on?
Ask to see homes that are at least 3-5 years old or older. This is important due to the fact that most problems related to poor quality and craftsmanship will arise within this time frame.
Can you send me a list of your past customers?
Ask for a list of references of past customers. This will give you an opinion from the homeowner's perspective and also will give you an idea of the level of satisfaction throughout the entire process as well as the final product.
Are the components kiln dried? If so, to what standard?
This is important as well due to the fact that there is a vast definition of "kiln dried" components. The components we use are guaranteed in writing to have a moisture content level of 15% or less.
Are their any special considerations to address settling or shrinking?
All the homes we build require no special considerations to address this issue. This is important because other homes that have a higher level of moisture content will require a special type of building system. This will also determine the type of warranty offered and how much maintenance is required once the home is complete.